How to Make Money with DoorDash: Getting Started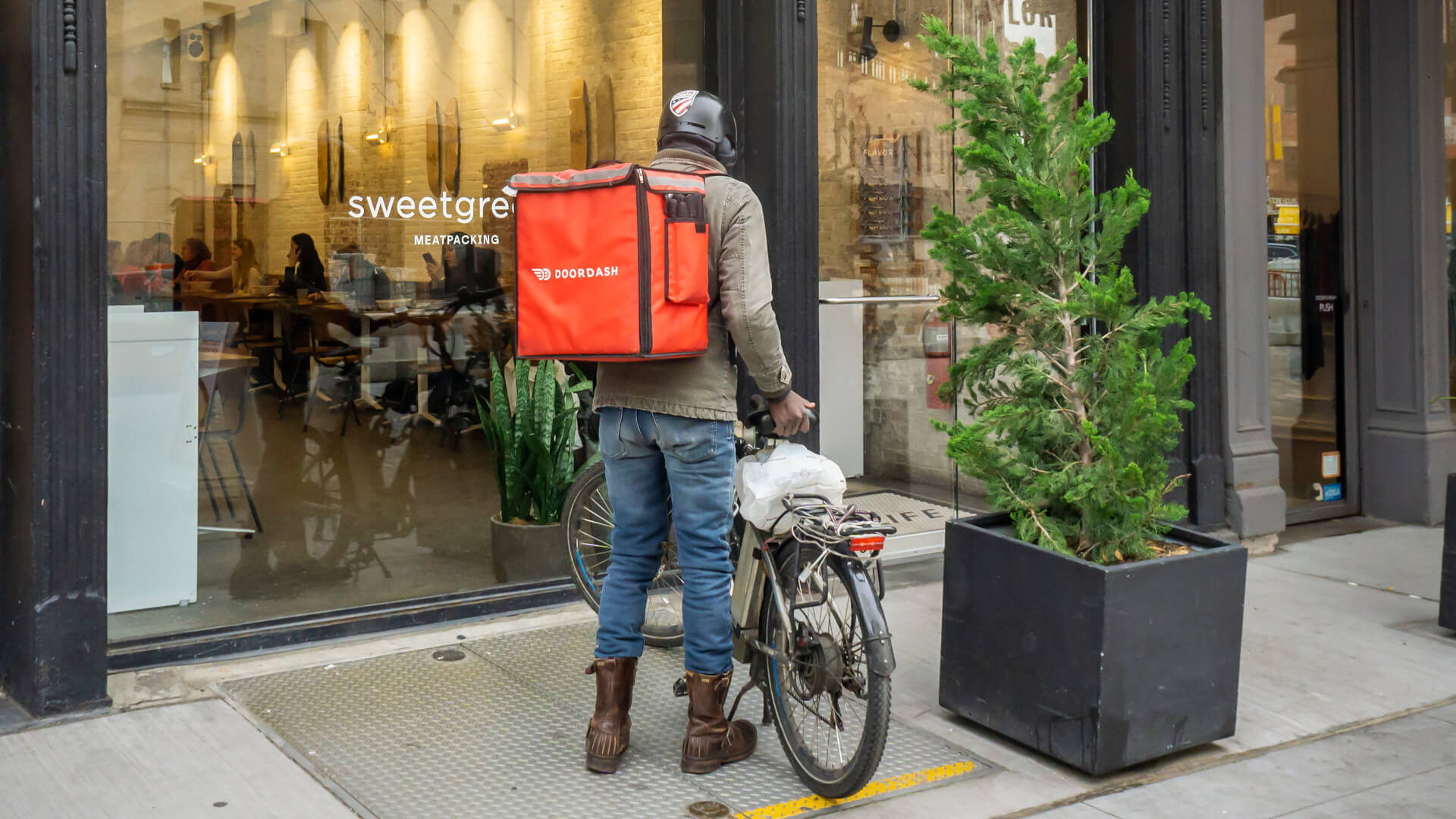 rblfmr / Shutterstock.com
DoorDash drivers make on-demand deliveries from restaurants, supermarkets, convenience stores and other local businesses. As independent contractors, they set their own hours, work as much or as little as they want, and use their own vehicle to make deliveries. The flexibility makes Dashing a great side job to earn extra money or, depending on the market, even to replace a regular part-time or full-time job. Registration only takes a few minutes and you can start driving a few days later.
How does DoorDash work?
When someone places an order through DoorDash, DoorDash offers delivery to drivers through a mobile app. When you are offered and accept a delivery, you collect the item from the business, deliver it to the customer, and get paid.
You can drive in your hometown or in any of the over 7,000 cities where DoorDash is available.
Register to drive for DoorDash
The registration process is quick and easy, but you will need to meet some basic criteria:
A means of transportation such as a car, scooter or, in some places, a bicycle
A valid driver's license number
A social security number
The first step towards driving for DoorDash is to register and complete your profile. As part of this process, you will accept a background check and add banking information so DoorDash can pay you by direct deposit. If you don't have a bank account, you can select the DasherDirect Business Prepaid Visa Card as an alternative.
You'll be ready to drive as soon as DoorDash verifies your vehicle information and background check. Monitor your DoorDash activation confirmation and background check emails, or check your application status by clicking the "Have you started signing up yet?" » link on the registration page. While you wait for activation, you can download the DoorDash app.
Good to know

If DoorDash isn't currently accepting drivers in your area, you'll see a notification on the registration page letting you know you've been added to the waitlist. You can check back periodically by clicking the "Have you started signing up yet?" » link on the registration page.
How to Earn Money Driving for DoorDash
Once you have been activated and installed the app, you can start driving. To schedule shifts in advance, fill in the information under the Schedule tab in the app. Otherwise, press the "Dash Now" button to let DoorDash know you're available, then wait for your first delivery. When it arrives, the screen displays a map showing the route as well as your base salary and the information you need to make the delivery, such as where to pick it up, the recipient's address and any instructions deposit special. Click the "Accept" button to accept the delivery, then follow the prompts to confirm delivery tasks as you complete them.
After your first delivery, the app will ask you to enter your mailing address so DoorDash can send you a welcome kit. The kit includes the items you will need for deliveries:
A red card that you will use to pay for certain deliveries (only on instruction)
A hot bag to keep food fresh while it's on its way to the customer
You can continue driving while waiting for your kit to arrive. At this time, DoorDash will only offer deliveries that do not require a red card.
get paid
For each delivery you make, you will receive a base salary ranging from $2 to $10, not including tips. The amount depends on the expected duration of the delivery, the distance to be covered and the value of the delivery. You can earn extra money with promotional payment:
Maximum salary: An additional amount per delivery during peak periods
Challenges: Incentives for meeting delivery targets
Guaranteed earnings: Guarantee that selected Dashers will earn at least the guaranteed amount within a specific time frame
You can track your earnings under the Earnings tab in the app. They are grouped by week and you will see the total for each week on the main earnings screen. Tap any week to get a detailed view of that week's earnings.
DoorDash transfers payments to your bank each Monday for deliveries made Monday through Sunday the previous week. Funds are usually available on Wednesday evening. However, you can cash out daily for a fee of $1.99 or opt for a DasherDirect debit card to have your earnings charged every time you make a delivery.
How to maximize your earnings and make the most money on DoorDash
Drivers can expect to make $16 to $18 per hour, according to DoorDash Driver Salary Surveys from ZipRecruiter and Glassdoor. However, you can maximize your income by implementing strategies to make your time behind the wheel more lucrative and efficient.
Drive in high demand areas
Busy areas are more likely to offer back-to-back deliveries close to each other. The faster you eliminate deliveries, the more you will earn.
Drive during rush hour
The maximum salary increases your earnings per delivery in addition to maximizing the number of deliveries you receive. Busy periods, such as meal times, are more likely to offer peak pay.
Focus on restaurant orders
Restaurant orders usually pay more than what you'll earn for a quick stop at a fast food or convenience store. Not only are orders more expensive, but tips can be too.
Beware of stacked orders
DoorDash can offer you several orders at the same time. These "stacked" orders can increase your income, but they may not be worth taking unless they are close together. Long distances between deliveries can lead to disproportionately low wages.
Get a second driving gig
Using two driving apps at the same time can significantly increase your earnings. The second gig can fill any downtime you have between DoorDash deliveries.
Is DoorDash driving worth it?
Signing up for DoorDash is easy and free. Although your income depends on demand in the areas where you drive, during the hours you drive, the average salary plus tips makes this a more lucrative opportunity than many part-time jobs. It's worth it for anyone who wants to earn some extra cash while still having full control over their schedule.
Information is accurate as of February 7, 2022.