Germans will be "vaccinated, cured or dead"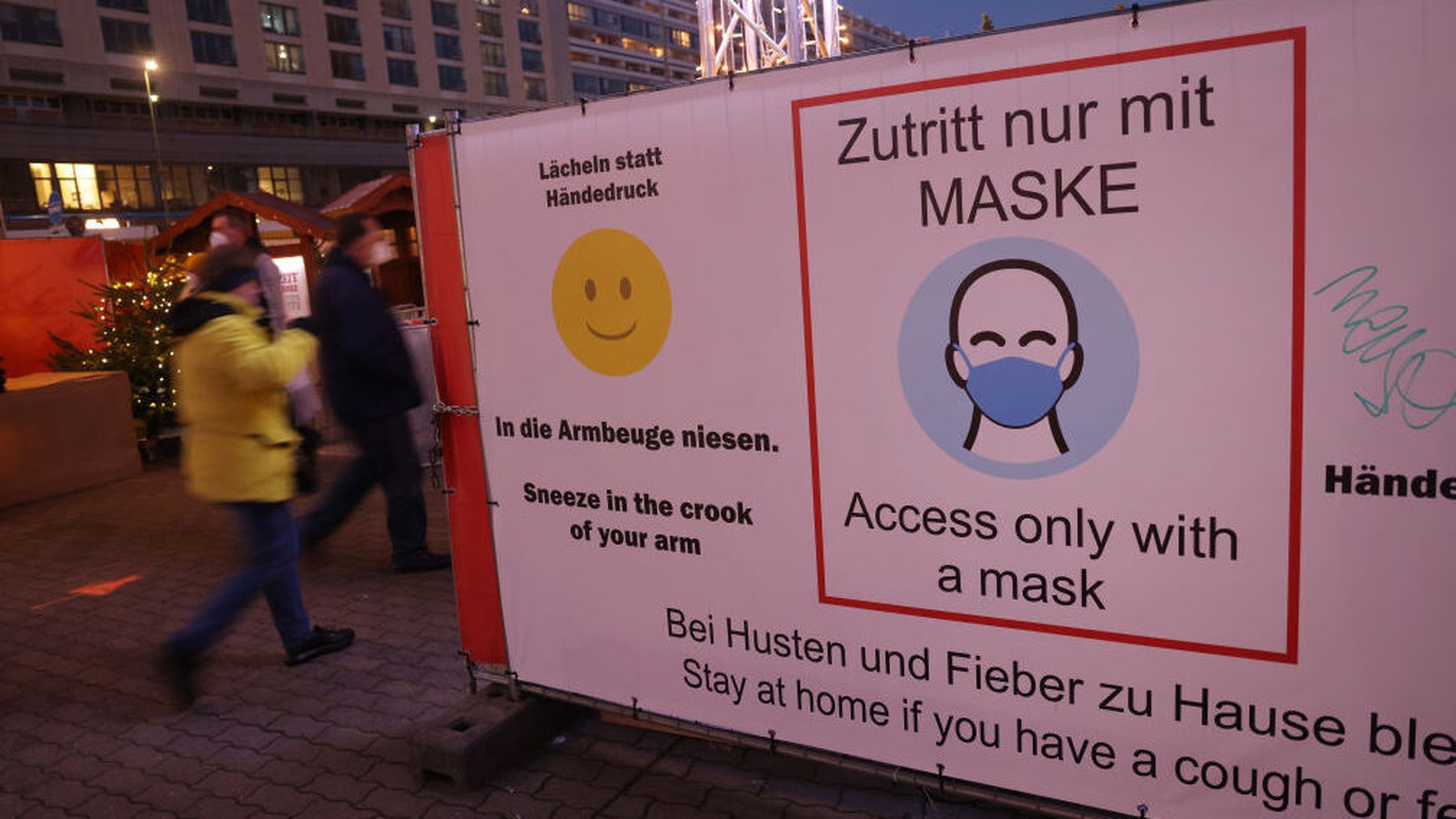 Most Germans will be "vaccinated, cured or dead" from Covid-19 within a few months, according to the country's health minister.
Jens Spahn urged more citizens to get vaccinated.
"Probably by the end of this winter, as it is sometimes cynically said, just about everyone in Germany will be vaccinated, cured or dead," Mr Spahn said, blaming "the highly contagious variant of the Delta" .
"That is why we urgently recommend vaccination," he added.
The stern warning comes as Germany works to contain a record rise in coronavirus infections in recent weeks, as hospitals sound the alarm over overflowing intensive care units.
Despite widespread access to free vaccines, only 68% of the population is fully vaccinated, a level too low according to experts to keep the pandemic under control.
Germany, the most populous country in the EU, added 30,643 more cases today, according to the Robert Koch Institute health agency, bringing the total since the start of the pandemic to just over of 5.3 million.
Nearly 100,000 people have died, including 62 in the past 24 hours.
"We have a very, very difficult situation in a lot of hospitals," said Spahn.
Germany last week announced tighter coronavirus restrictions to contain the fierce fourth wave of Covid-19.
In areas with high hospitalization rates, unvaccinated people will be barred from public spaces such as cinemas, gymnasiums and indoor restaurants.
Employees are encouraged to return to work from home whenever possible, while anyone going to the workplace must prove that they are vaccinated, cured or have recently tested negative.
The same rule applies to public transport in these areas.
Several of Germany's hardest-hit regions, including Bavaria and Saxony, have gone even further by canceling major events such as Christmas markets and effectively banning the unvaccinated from non-essential public life.
All vaccinated adults were also advised to be given a booster to combat the decrease in vaccine effectiveness after six months.
The United States Centers for Disease Control and Prevention (CDC) has advised against travel to Germany and Denmark due to the growing number of Covid-19 cases in those countries.
The CDC raised its travel recommendation to "level four: very high" for the two European countries, telling Americans they should avoid going there.
In addition, French Prime Minister Jean Castex tested positive for Covid-19 this evening, his cabinet told AFP, specifying that he would isolate himself for 10 days while continuing to work.
Austria back in Covid-19 lockdown as Europe battles skyrocketing
Austria has closed shops, restaurants and festive markets ahead of the Christmas holidays and returned to containment in the biggest Covid-19 restriction seen in Western Europe in months.
The move sparked a backlash, with tens of thousands taking to the streets, with some accusing the government of not doing more to avoid the latest wave of the virus.
From today, the 8.9 million Austrians will not be allowed to leave their homes except to go to work, buy basic necessities and exercise.
The Alpine nation is also imposing a broad vaccination mandate from February 1 – joining the Vatican as the only place in Europe with such a requirement.
Battling a resurgent pandemic nearly two years after the emergence of Covid-19, several countries on the continent have reintroduced restrictions, often choosing to ban unvaccinated people from going to places like restaurants and bars.
We need your consent to load this rte-player contentWe use rte-player to manage additional content that may place cookies on your device and collect data about your activity. Please check their details and accept them to load the content.Manage preferences
Austria's move breaks previous promises that strict virus restrictions are a thing of the past.
During the summer, then-chancellor Sebastian Kurz declared the pandemic "over."
But capping inoculation rates, a record number of cases and a growing number of deaths have forced the government to reverse such claims.
After taking office in October, Chancellor Alexander Schallenberg criticized the "shamefully low" vaccination rate – 66% against 75% in France – and banned unvaccinated people from public spaces.
When that proved ineffective, he announced a 20-day nationwide lockdown, with an assessment after ten days.
Schools will remain open, although parents have been advised to keep their children at home if possible. Telecommuting is also recommended.
Political analyst Thomas Hofer criticized Schallenberg for maintaining "the fiction" of a successfully contained pandemic for too long.
"The government has not taken seriously the warnings of a next wave," he said. "The chaos is evident."
---
Latest Coronavirus Stories
---
Covid riots are 'sheer violence' by 'idiots' – Dutch PM
Dutch Prime Minister Mark Rutte called three nights of unrest over anti-Covid measures "pure violence" by "idiots" and vowed to prosecute those responsible.
Riots have taken place in several cities across the country since Friday.
Mr Rutte called the riots "sheer violence under the guise of protest".
He added that he would always defend the right to protest, but "I will never allow idiots to use outright violence," he told Dutch media.
More than 130 people have been arrested in the Netherlands during three days of unrest sparked by a Covid-19 curfew.
"People want to live," said one of the organizers of the Dutch protests, Joost Eras. "This is why we are here."
Slovakia sets up lockdown for unvaccinated people
Slovakia has put in place a lockdown for those unvaccinated against Covid-19, the health ministry said, as the central European country battles one of the highest coronavirus infection rates in the world. world.
Unvaccinated people are not allowed to enter stores other than those considered essential, such as supermarkets or pharmacies – even with a negative coronavirus test.
"We have resorted to a vigorous lockdown of the unvaccinated because we have to protect them," Prime Minister Eduard Heger said earlier on public broadcaster RTVS.
Slovakia has the fourth infection rate in the world with 917 new cases of Covid-19 per 100,000 population in the past seven days, according to an AFP calculation, after Slovenia, Austria and neighboring Czech Republic .
"The high rate is due to many factors, the most important of which is that we have very few people vaccinated," said the president of the Association of Physicians' Unions, Peter Visolajsky.
"The restrictions adopted are still very weak, and they are not as effective as in the case of the previous variant of the coronavirus," he added.
He said better enforcement of existing restrictions and "more intensive vaccination could reduce the number of infections."
The EU country of 5.4 million people has one of the lowest vaccination rates in the European Union.
Only 45.7% of the population is fully vaccinated in Slovakia.
New recommendations on EU travel
The European Commission will update its recommendations on international travel to the EU this week and present proposals on the harmonization of the validity period of the EU Covid certificate.
Speaking to the European Parliament in Strasbourg, European Health Commissioner Stella Kyriakides said disagreement between member states over the criteria for the validity of the European Covid-19 pass should be avoided.
"We need to avoid fragmentation, and for that, strong coordination is essential. And that is why we are currently preparing an update of the Council recommendations on free movement within the EU.
"The proposal to be adopted this week will promote and recognize the important role of the EU Covid digital certificate that travelers wear today. And we will also update the recommendation on travel to the EU from around the world. "she said.
Greece last week requested that a reminder in the past six months be introduced as a requirement for the EU's Covid pass to be valid.
The Italian government is also considering a recommendation to make the pass valid for up to nine months after full vaccination.
EU begins J&J Covid vaccine booster assessment
The EU's drugs watchdog said it was evaluating a request by Johnson & Johnson for its Covid vaccine booster for use on people aged 18 and over in the block.
If approved, the booster will be the third in the European Union for adults and will be given at least two months after a first single dose.
"The EMA's Committee for Medicinal Products for Human Use will conduct an expedited assessment of the data submitted by the company that markets the vaccine," the European Medicines Agency said, adding that a result was "expected in a few weeks" .
Data assessed by the Amsterdam-based EMA will include the results of more than 14,000 adults who received a second dose of the Covid-19 Janssen vaccine or a placebo, the agency said.
Two more booster shots with vaccines manufactured by Pfizer / Biontech and Moderna have already been approved for use in the EU.
The regulator has also currently approved four vaccines: Pfizer and Moderna, which use messenger RNA technology, and AstraZeneca and Johnson & Johnson, which use viral vector technology.