Fan's trip to Wembley would have been cheaper via flight to Spain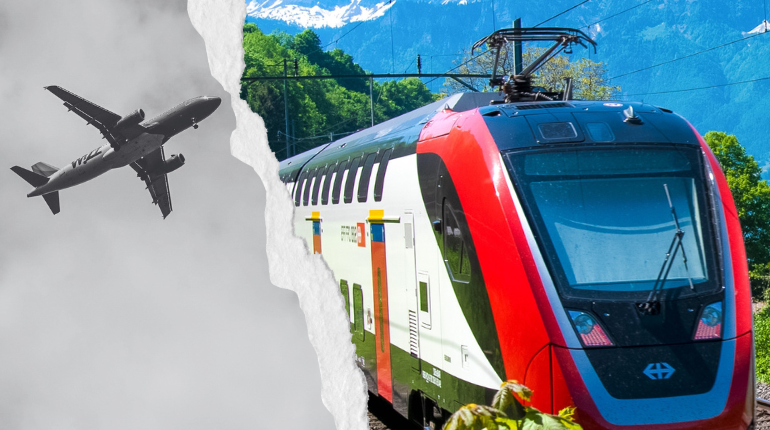 This article was originally published by Smart Transport. For more content like this check out their website https://www.smarttransport.org.uk/
Earlier this year, a Sunderland football fan wishing to travel to Wembley to see his team play discovered that it was cheaper to fly via Spain than to take the train from Newcastle to London.
James Jelly paid just £51 for plane tickets and an overnight stay in Spain, instead of paying £162 for a train. For many people in Britain, this story will come as no surprise. Train fares are literally a national joke. Cartoonist Matt regularly pokes fun at rail fares, including a man telling his neighbour: 'I'm still working from home. I'm protecting myself from a bad new rail fare variant.
The RAC transport cost index shows that the cost of rail fares has risen faster than the cost of living or average wages since 2012, while the cost of automobiles has fallen in real terms. Yet even this average fare hides even larger increases for certain types of tickets.
Although it is possible to get cheap tickets in advance, the cost of a long-distance train ticket at any time has more than doubled in real terms since 2004. Compare this with Europe where travel by train are usually much cheaper.
The McNulty 2011 Rail Value for Money report found that UK fares cost around 30% more per passenger-mile than those in the rest of Europe.
A later 2016 study for the European Commission found that, for peak hour singles, the UK is by far the most expensive country for intercity trains (although close to the EU average for off-peak returns).
Why are our rail fares so expensive?
The McNulty report largely attributed this to the highly fragmented nature of the rail network leading to excessively high costs, but refrained from blaming the privatization of British Rail in 1994.
Before privatization the British Railways Board showed that UK railways were 40% more efficient than eight comparable railways in Europe, while in 2011 the McNulty report found that UK railways were 40% less efficient than the national railways of France, the Netherlands, and Sweden. and Switzerland.
Campaign group We Own It adds that inadequate government funding and shareholder profits are leaking out of the system as underlying reasons for the rail fare malaise.
In the UK, more of the cost is passed on to passengers so the government can pay less. Whereas in Europe, the social and economic benefits of higher public funding are more appreciated.
Rail elsewhere
Other countries that place more importance on their public transport services than we do recognize that making public transport affordable is not a cost to society but a benefit by providing access to health, education, employment, family, opportunities and leisure.
This year in Germany, the government introduced a discounted national pass to help offset the rising cost of fuel and living.
They offered everyone, residents and visitors, a €9 (£7.65) ticket to travel all over Germany on local/regional trains (excluding long-distance and intercity trains) and other public transport for an entire month in June, July or August.
Spain has also reduced public transport fares on public transport and from September 2022 until the end of the year, some train journeys will be free in response to rapidly rising energy and air costs. 'inflation.
With a cost of living crisis and a climate emergency, we should follow the lead of Germany and Spain in making low-carbon modes of transport like the train cheaper and more convenient.
Trains are an essential part of a transport decarbonisation strategy as they can replace long car journeys which account for the majority of carbon emissions.
Although trips longer than 10 miles only account for one-fifth (22%) of car/van driver trips, they are responsible for 69% of car/van kilometers travelled.
Before Covid, around a quarter of long-distance car journeys (>50 miles) were for commuting and business, some of which can be avoided by working from home and using remote technologies.
But more than three-fifths of those long-distance car trips are related to leisure – visiting friends, vacations, day trips, and more. To persuade people to ditch the car and take the train for more of these leisure journeys, we need a package of measures to improve services and make them cheaper.
For example, we need better services or more frequent services to coastal and rural areas. Often there is no direct service between major population centers and coastal areas, which is important when traveling with a lot of luggage. We must also facilitate end-to-end journeys by improving connections with buses, trams, ferry services, access by bicycle and on foot.
No capacity for growth
Along with reducing fares, we also need to increase rail capacity. Much of the UK rail infrastructure has no capacity for traffic growth due to historical underinvestment and fragmentation.
This problem must be addressed through significant and sustained investment in improvements to increase capacity, provide more frequent services, reopen lines and stations, electrify the network and provide more rolling stock and newer. Instead, in the summer of 2022, the government announced rail cuts of 10%.
The need for radical change in the railways was recognized in the government's year-long railway review, chaired by Keith Williams, who criticized the current system as "too fragmented, too complicated and too expensive to operate.
This review inaugurated the new public body, Great British Railways, designed to end the current fragmentation caused by privatisation.
We Own It described this new body as "moving the deckchairs on the Titanic" and "the same old renamed system".
Instead, he asked the government to bring the railways back into public ownership.
If we had a public national rail system, a report by my colleagues Ian Taylor and Lynn Sloman estimated that it would save £1billion a year, enough to fund an 18% reduction in rail fares.
That's because we wouldn't waste money on shareholder profits, fragmentation and higher cost of borrowing.
According to research by RMT, the three rolling stock companies that own and lease the trains paid almost £1bn in dividends at taxpayer expense in 2020-21, equivalent to half of the £2bn sterling in fares paid by passengers.
In Scotland, where the railway returned to public ownership in April 2022, authorities are carrying out a 'fair fare review' to look at the cost of services and there has been talk of scrapping peak hour fares and offering free trips for young people.
With a public railway – and the right investment – ​​we could make train fares in Britain truly fair and provide world-class rail service.
We could get more people back on trains after the pandemic and make it easier to get the car trips needed to meet our carbon targets.
This would provide immeasurable benefits for communities, carbon and congestion.
Author: Lisa Hopkinson
Lisa Hopkinson is an environmental researcher with over 30 years of experience in Hong Kong and the UK in the charitable, educational and private sectors. She has worked in various ways as a consultant, activist, political assistant and researcher.