Credit Union offers tuition lifeline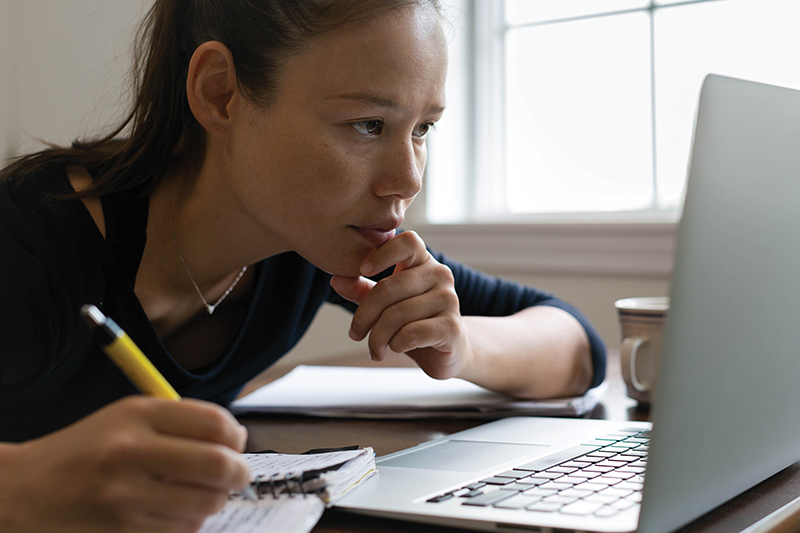 It should come as no surprise that according to US news and world report, average tuition and fees required to attend college continue to rise.
For private colleges, this average amount is $38,185 per year. For international students attending a public college or university, the amount is $22,698 and about half that amount for in-state students at $10,338 per year.
By the way, these amounts do not include room and board.
For a large majority of students and their parents, the only way to attend a public or private college is to incur student debt. According to the Federal Reserve, there are 45 million borrowers who collectively owe more than $1.7 trillion in student loans.
Student loans have risen to become the second highest category of consumer debt, behind mortgage debt.
According to Fidelity Investments' 2021 College Savings and Student Debt Study, only 19% of respondents said they have a dedicated college savings account to help pay for college fees.
"A growing number of parents are turning to loans in their own name to help fill the void, leaving Gen Xers and baby boomers heavily in debt as they approach retirement – ​​and millennials may want to think about twice before adding their children's student debt onto their own student debt burden," the study states.
The study adds, "After graduation, nearly two-thirds (64%) of recent graduates and their parents say their final loan balances were higher than expected.
Fidelity's study found that four in 10 high school students considered the cost of a college education the most important factor in deciding when and how to pursue higher education.
"Nearly half (49%) of high school parents expect grants and scholarships to play a role in funding education, but only a third of recent graduates say they have benefited from these programs," reports the study.
The study also found that 44% of high school parents expected financial assistance to pay for their education, while 35% expected student loans to cover costs.
For many who were simply considering a post-secondary education, private colleges and universities were out of the question due to their higher costs in almost every category, from tuition to room and board.
What if there was a new way of thinking about helping students attend college without going into oppressive debt? What if credit unions could tap into a program that serves as much-needed financial assistance and, at the same time, serves as a member retention tool?
Earlier this year, at the annual meeting of the CrossState Credit Union Association in Atlantic City, NJ, a new partnership was formed to do just these things: help students with the cost of a private school education and to gain more members.
SAGE Scholars, Inc., headquartered in Philadelphia, is the nation's oldest and largest private college preparation and funding organization. SAGE Scholars aims to "bridge the gap between students who want an affordable private college education with colleges that will guarantee tuition discounts to member families – all at no cost to the student, family, or college. ".
According to Michael Hall, CEO of SAGE Scholars, his company has become a preferred supplier for CrossState and he is currently rolling out his organization's tuition rewards program to member credit unions.
The way Hall explained it, the SAGE Scholars Tuition Rewards program is similar to frequent flyer miles. Each point equals $1 off and represents the minimum scholarship a sponsored student will receive if attending school at a participating private college.
Hall said he believes this program is a great benefit to being a member of a credit union.
"So, for example, let's say someone has a money market account and the money market account is $50,000 for each year the member keeps the money market account active. We will match the December 31 balance with 5% tuition reward points. So, you will get 2,500 tuition reward points every year. You keep this money market account at this credit union. So after 10 years, you can accumulate 25,000 tuition reward points that can be redeemed at any of our 440 schools," Hall said.
Hall said he thinks adding products or benefits like this can provide additional value to credit unions looking to stand out to members facing the daunting financial pressure of sending their children or themselves at university.
Daniel Sulpizio, EVP and COO of Deptford, NJ-based First Harvest Credit Union (496 million assets, 50,622 members) similarly believes in Hall's vision.
Prior to joining First Harvest nearly four years ago after his stint in banking, he instituted the SAFE Scholars tuition program as a way to acquire new depositors with great success.
"I used it at another financial institution as a method of acquiring new depositors because if you get rewards that you could use for college for the kids, you're more likely to see that as a benefit and bank with this financier. institution," Sulpizio said. "So my, my plan was to do the same for the credit union."
In fact, First Harvest is the first and only credit union in New Jersey to offer the rewards program.
When he initially launched the program at First Harvest, COVID-19 hit and he had to be put on hold. But now, he said, the credit union is rolling it out again this fall as kids return to school.
"And as you know, credit unions being [not-for-profit], one of our biggest platforms is of course education. I think it's very important that we support education," Sulpizio said. "We have a lot of select employer groups that are school districts and we support a lot of teachers. So it was a perfect opportunity for me to bring this program to First Harvest.
Sulpizio said the feature, which is free for members, has indeed become a member retention and acquisition tool. He also said it couldn't come at a better time.
"Obviously if you think about the cost of college today, I mean the cost of college just keeps growing and growing and growing," he said.
He continued, "The way I see this product is like a pyramid – you have the best kids getting academic and athletic scholarships. And then you have the base of that, the people who get all the financial aid and scholarships. And you have this group in the middle of kids who really want to go to these best schools, but their parents can't afford it. It's a bit out of reach and it really gives our members the ability to use reward points for these kids, to level them up. »
Hall realized early on that the SAFE Scholar Tuition Rewards program had the potential to attract members and also become a benefit for employees. Sulpizio accepted and went even further.
"One of the things we talked about developing the product is, how can we engage our employees more and help them, as part of our family, to be more involved in their 401(k) and planning for their future?We are looking at this right now, that maybe we can give our employees who participate in the 401(k) program the opportunity to earn reward points if they participate, because we really care about our employees," Sulpizio said.
Sulpizio added that he wants his credit union leaders to show members how much they understand financial strain and the stresses of school and life.
"We are here to help them in all areas of life and we want to help their children. If you think about our slogan, "First Harvest is a better place to grow," it's really about growing your future, growing your kids, growing your family. And that's really what we want it to be," he said.